Hotspot System
Hotspot! Do you live near a hotel, apartment, marina, campground, tourist attraction, or in a busy venue? It's time to setup your own Wi-Fi Hotspot service and provide internet for tourists and make money with INSTANTHOTSPOT™ solution.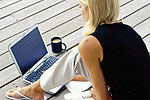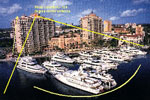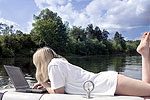 Withthe use of the INSTANTHOTSPOT™, you can quickly and easily make money from home. Just share your internet with a low cost wireless router, set the prices with our software to a bit cheaper than the competition, and it's guaranteed that Wi-Fi users will buy the access from you!

WHAT DO YOU NEED TO START THE HOTSPOT SERVICE?
Apart from a broanband internet connection (which you will share), a low cost wireless router is needed. We suggest to use a LinkSys WRT54GL router, but you can choose other models as well from the compatibility list.
HOW MUCH MONEY CAN I MAKE?


It depends on the location and the competition. If you can setup a hotspot near a marina, you can earn up to $1000 in a month. Be sure to check out the prices of the competition first, then you can set your own pricing in your own currency and it's guaranteed that tourists with a Wi-Fi-enabled laptop will buy the internet from you. Tourists can pay by credit cards or PayPal from your Hotspot Start page directly.
HOW MUCH DOES THE SERVICE COST?
The service has no setup or monthly fee, so there're no risks. You just have to pay a small commission (maximum of 30%) from the successful transactions. We charge the users, then pay you out in every month.
HOW TO START YOUR OWN WI-FI HOTSPOT?
To answer this question, we have to explore a few things first. What are the main advantages to operate a HotSpot? Should i give the internet access free for my customers or charge them? See below...
DEVELOPMENT OF WI-FI
Wi-Fi is the fastest growing segment of the internet. The number of those using their own laptops, PDA or Wi-Fi phones is growing dynamically and they need internet access. Now, using the Wi-Fi technology you can gain money, while providing premium service to your guests.
The development and the spread of Wi-Fi technology has started to grow exponentially in the past years. According to a survey conducted in 2006, close to 8 million Wi-Fi users will use the public Wi-Fi Hotspots by the year 2007, generating income of hundreds of millions of dollars. Today, the majority of the laptop producers, like Hewlett Packard, Sony, Dell, Toshiba, Apple and IBM are building the Wi-Fi antenna into the laptop, thus it has become a standard accessory as the 56K modem used to be. You can be part of this technological development with the help of our "INSTANT HOTSPOT" service.
WHY IS IT WORTH TO OPERATE YOUR OWN HOTSPOT?
There are thousand of HOTSPOTS operating around the world and their numberraised dynamically and literally hundreds of thousands of businesses can't be wrong. By offering Wi-Fi hotspot services to their customers, they're gaining traffic, recognition, and affluent customers, not to mention keeping up with the competition. The visiting foreigner are specifically looking for HotSpots and the rather choose a place where they can access the internet using their own computers. Reading e-mails has become a daily routine, and the internet is necessary to operate a growing number of other services too (phone calls via the internet using Skype videoconference etc.)


WHAT KIND OF LOCATIONS ARE SUITABLE FOR OPERATING A HOTSPOT?

These type of locations are perfect for setting up a Wi-Fi HotSpot:

Airport, Bar, Beach, Bus station, Cafe, Campground, Convention center, Disco, Downtown area, Gas station, Golf course, Government office, Health club, Hospital, Hotel, Internet cafe, Library, Marina, Residential area, Office building, Office park, Other Park, Private club, Public space / public building, Residence, Rest area ,Restaurant, Rural area, Sports venue, Store / shopping mall, Train station, Truck stop, School / university, Phone booth, Business center, Training Center, Boat / Ferry / Ship, Car Wash, Tourist Attraction, Pub, RV Resort, Hotzone (Metro area, Mesh network)


HOTSPOT FOR A FEE OR HOTSPOT FOR FREE?

Many places operate free HotSpot. Such completely open HotSpot can be set up within minutes by using only a broadband internet access and a Wi-Fi router. The free internet service is attractive, but there are several adverse characteristics of this service, such as the number and the time of the access' can not be limited.

In many places the free internet access has become so popular, that their guests are visiting the coffee shop or the restaurant just for the sake of the free access, thus never actually becoming a customer. More over, the neighbors living in the close surround are overloading the system without ever paying a penny.

A lot of coffee shops and hotels turn to us with this problem. The bandwidth of the access, granted to each customer can not be limited either. Thus if someone uses the free Wi-Fi connection to download vast information, it will make the system unusable for other customers. This is why chains, like Starbucks, McDonald's, Borders, and Barnes & Noble, will probably never offer the service for free. By charging a fee, even a small amount, they ensure that most people are coming for food or books first, and Wi-Fi second, while collecting appropriate monies from people who just want to surf all day.


WHAT IS THE SOLUTION?

Fortunately the risks of operating a HotSpot is very small because of its low costs compared to the opportunities it is providing, such as acquiring new customers or keeping the old ones longer. Whether you will decide to provide free of paid solution you will need a HotSpot management to ensure that only the authorized people can access the wireless internet network.
This is where we step into the picture. With the help of
"INSTANTHOTSPOT "
package you can easily create a HotSpot and the special software runs in the Wi-Fi router will automatically give out the accesses.
If you are thinking about creating free internet access for your customers, with the help of
HOTSPOTFREE
solution you can offer free internet access while you can ensure that your network will be used only buy those who areauthorized.
Should you want to create a HotSpot where customers have to pay a fee for HotSpot access, the system will work automatically. Your customer will pay for the access via the internet by a credit card or a PayPal account, that will provide him access to the internet for a period he has paid for (there is an option to use PrePaid cards too). Check out our HOTSPOT PRO solution for more information.
SETUP YOUR OWN WI-FI HOTSPOT
Start your own Wi-Fi HotSpot service with our
INSTANTHOTSPOT
™ solution.
With the use of the INSTANT HOTSPOT™, you can quickly and easily provide fast Wi-Fi internet access to your guests. You will not only acquire the newest technology, but an extra income source (in case of pay-per-use model).
HOTSPOTSYSTEM.COMHOTSPOT FEATURES
HOTSPOT Start Page Setup your own Hotspot quickly and simply. You will only need a LinkSys WRT54GL or compatible Wi-Fi router with a special firmware. The minute you connect your router to an existing internet connection, your Hotspot is ready for use! You do not need any computer or staff for operation.
Low starting cost: You can start with one router whichcosts about 60 USD or you can use your existing router. You don't have to pay a setup fee for us, you can download the firmware for FREE immediately after registration.
Redirect users to Your HotSpot Start Page: Afterconnecting to your Wi-Fi network, your guests will be transferred to your Hotspot Start Page automatically. They will need a valid access to move forward. You can sell accesses to them via the built-in credit card or prepaid module or give valid access codes for free.
HotSpot Alert™: We're monitoring your HotSpot 24/7 and alert you if something is wrong. You can also check the system load anytime so you will know when your HotSpot is overloaded thus it needs to be extended.
Free "no hassle" support: HotSpotSystem.com provides support, and operates the customer service.
HOW TO START A HOTSPOT SERVICE WITH
HOTSPOTSYSTEM.COM
?
1. Get a compatible router and have a broadband internet connection on spot
2. Fill out our
onlineregistration form
and receive your personal software immediately FOR FREE
3. Setup and personalize your router configuration
Linksys-Cisco WRT54GL Wireless-G Broadband Router (Compatible with Linux)
Buy now from Amazon