Long-Range Wireless LAN
How To Leverage On The Use of Cost-Effective
Outdoor Long Range Wireless Networking Solutions
To Delivering High-Speed, Broadband Connectivity


No internet access? If you're looking to start your own Rural Internet or Municipal Wireless Internet Business, our Products are Cost-Effective Broadband and Telecom Solution ideal for long-range deployment.


Are you looking for ways to connect to the internet?
Install security surveillance cameras? Automate you business?
Deploy a community wireless internet hotspot?


---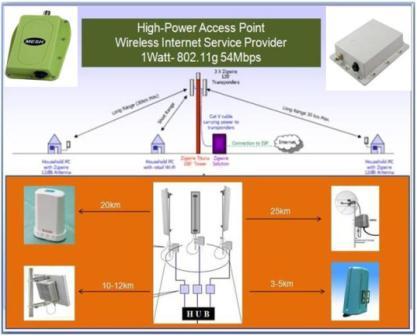 ---

Chances are, you are a looking for a solution. In this world of increasing reliance on the internet, delivering broadband high-speed internet access is indeed a big challenge. Especially if you're situated in areas with limited telecommunication facilities.

Chances are, you are a business owner and/or ICT-planner wanting to expand your existing local area-network. Chances are, you are an executive of a municipal/town with a vision of modernization thru linkage and networking of offices and sub-units for efficient operation; with plan to implement on-line security monitoring.

Of course, you need to connect your town to a public network known as the "internet" for accessing valuable-information over the web.



Chances are, you are a systems integrator, hobbyist
and wireless enthusiast looking for long-range wireless solution.
Or an entrepreneur shopping for "cost-effective" WISP equipment kit.



Are you looking for a new niche business market? Have you consider the demand in remote areas for high-speed wireless internet, wireless remote access, long-range security surveillance and other solutions needed by remote households, ranchers, farmers, villagers, mining companies, telecentres and businesses-enterprise for company LAN expansion?


---
---
We offer cost-effective wireless communication solution to get your job done effectively. Learn how to deploy your own indoor and outdoor network, telecom solution, wireless internet business system and service.



We make it easy for you to launch your own wireless system.
Our startup solution is easy to deploy.



The word "

cost-effective

" means profitable; representing a return on investment of more than the cost. An idea, an answer, a service or product designed to solve a particular requirement or need, problem or situation whose benefits, advantages far outweights the cost of acquiring the service/product.

A "

cost-effective solution

" should be able to help an organization derive savings plus tangible and intangible benefits such as improving business efficiency, productivity and profits.



Let us offer you what we consider as the cost-effective solutions to your wireless implementation requirements. XLIN long range wireless product & solutions are designed to serve diverse wireless application requirements and at a fraction of a cost of high-end products.

Our products are widely used worldwide with great success helping private, public and government institutions attained a certain level of connectivity.


---
Our long range wireless LANs are:
True outdoor unit, solid and weather-proof, operating at -35c ~ 70c (-95f ~ 158f)
Shortest antenna cable, least antenna gain loss, highest performance and efficiency
Power over Ethernet (POE) design supports best reliability and performance
2.3/2.4/2.5/3.4/3.5/5~5.8GHz broadest RF options to meet all kind of scenario, least interference and best immunity
Wi-Fi AP/Client/Repeater/Bridge full operating options to meet all kind of usage and application demand
700/900MHz WiFi for non-LOS applications
WiMAX backhaul
New MESH innovation for serving laptop users
Budget Buster series : indoor USB cost for outdoor long range application !!
---
Product Portfolio.
Solution Scenarios.
Building An ISP.
Inquire on

Turn-Key Solution.
Wireless & Networking Articles.
Long-Range Wireless LAN Deployment Tips
3rd Party Resources - Wireless Networking Guide



New Release:





XOU-2410NGB


Long Range Outdoor USB-CPE

Budget Buster

802.11n/g/b, 1-watt

(EIRP radiation output 37dBm/6-watt)

XOU-2410NGB-1W




(antenna optional with N-female connector)

XOU-2410NGB-6W




(with 7-dbi antenna)
---
Highlights

2.4GHz, 802.11b/g, single radio MESH solution
2 x SSID, Time Division

| | |
| --- | --- |
| | |
| MESH-100 (100mW) | MESH-500 (500mW) |
Feature Highlights

Cost-effective smart innovation on MESH solution
Single radio, 2 x SSID, time division for backhaul & AP operations simultaneously
Easy & smart deploying for mobile applications, outdoor and indoor applications: city area, community, campus, park, camp, hotel, mall, condo, offices
Auto Connection for Better Signal Route
Auto redundancy basing on auto best route connection
True weather proof for outdoor and indoor application
WMM option: Enhance user performance and density QoS, supporting bandwidth priority to voice (VOIP) and image (surveillance/IPTV)
Easy to Configure by @MESH AP Manager
Operation Range:
MESH-100: 250m
MESH-500: 500m
---
Long-Range Wireless LAN



How Can I help?


Need a helping hand?
Want a quick Recommendation?
Organise a quote?
Chat with a Consultant now!
or Email us your question
Click on Live Help Icon.
---

Soon Accepting Paypal



---

New 2009 Release:

High-Power AP: APRO-2408G


---
News:

To Serve
Philippine Market:



Hotware Solutions Phil, Inc(HSPI)




Davao City




8000 Philippines




Tel No. +63 82 303 5048




Fax No. +63 82 321-4641




email:sales-hspi@hotware.com.tw





Product Line:





Long-Range Wireless LAN




Telephony Solutions:




VoiP (Digital IP)




Cordless Phone (Analog)




PABX, Hybrid, IP-PBX




Security Surveillance




Power Back-UP Solutions