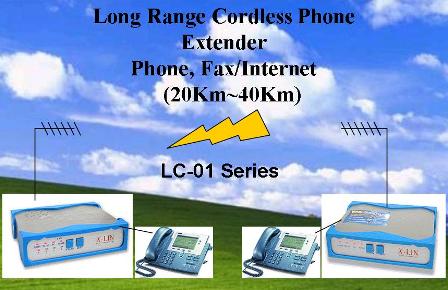 LC01- Long Range Phone
Wireless Voice/Data Phone Range-Extender
This is no ordinary cheap, low-quality cordless Phone
Some telco's are actually using this gadget for remote, rural-areas voice-service application such as
Public Calling Office

Extended Phone Service

Private Voice-Network, etc...
A good investment that provides full return in short span of time, as well as, reliability andquality-of-service.
A phone extender is gadget that is able to extend a wired telephone connection (signal) on wireless-mode over very long distances.
How to Leverage on Long-Range Phone Extender To Boost Your Internet Business

(click here)
The technology was perfected by a team of wireless telecom experts with exposures in wireless military communication-applications.
LCO1 Long Range Phone is a middle-end, cost-effective solution for every kind of requirements.
It's price is neither cheap nor prohibitive. Bottomline, it can deliver clear voice-signal and high transmission reliability..
---
LCO1 Long Range Phone Application Usage and Advantages: